To show my appreciation for my clients, I am starting a "featured client" series on my website! This series will highlight my client's journey to find or sell their home, along with their experiences with me as their real estate professional. First and foremost, I would like to say thank you to all of my clients – you are why I love real estate! And, second, congratulations on your new home – I enjoyed working with you every step of the way!
Chris and Jenny Fisher's Journey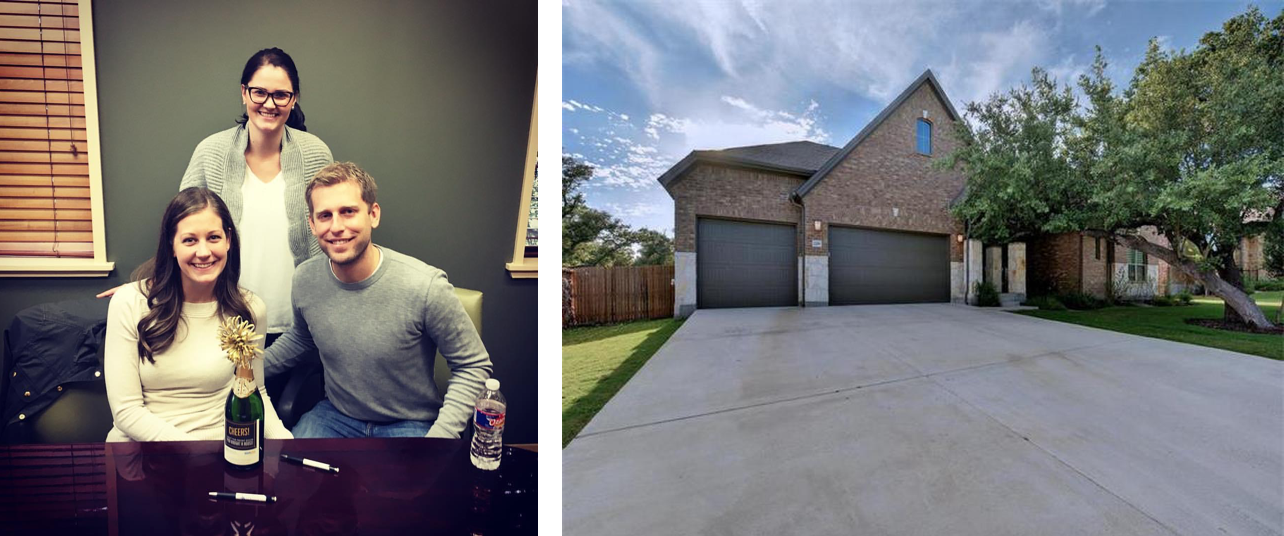 No matter the reason, helping a client find their dream home is one of the greatest joys of being a Realtor®! And, I know this from personal experience. From first-time homebuyers to those looking for a retirement home, every client is different – that's no secret! My job as a Realtor® is to help the client no matter the situation. However, first-time homebuyers are some of my favorites – their excitement about buying their first home is contagious, and the sparkle in their eyes when they walk into their perfect home is what sets them apart.
When I began working with Chris and Jenny Fisher, they had a vision to start the next chapter in their lives: a house to call home in the Austin area. With every first-time homebuyer comes nerves and questions. Who will we use as a Realtor®? Will they be able to find us our dream home? Among other questions. Chris and Jenny came to know about me on the recommendation of a coworker…and from the moment they stepped into my office, we were off to the races. Well, house hunting, that is!
You know that sparkle I was talking about? The Fisher's found their dream home one night after work. "It encompassed all the qualities and characteristics we dreamed our first home would have," said the Fishers. "And, due to Darcy's quick action and attention to detail we were able to put in a formal offer the next day. She was able to negotiate the price down to align directly with our budget and comfort zone and the next thing we knew we were the proud new owners of our dream home."
I am beyond happy to have helped these incredible clients find their dream home to start the next chapter in their lives. There's nothing better than a happy client! Take a look at what the Fishers had to say about their real estate experience:
"While the home buying process has a tendency to be stressful and tiring, we had quite the opposite experience working with Darcy. Her hard work, knowledge and ability to connect with all parties involved in the process ensured we had an exciting and positive time buying our first home."
I just have one thing left to say – Welcome Home Chris and Jenny Fisher!
Do you know someone looking for a fantastic real estate agent? I would be honored to earn your endorsement.